the hammam
The Hammam is an ancient pleasure: well known in the Hellenic-Roman period under the name of thermae, it has always been a place of leisure and social exchange.
Today the hammam is a luxurious place where one comes to cleanse the body through a series of treatments, the perfect place to purify the soul and relax the mind.
Step out of your everyday busy life, and step into a place of calm and serenity in the heart of Rome. Let the scent of incense and the sound of flowing water transport you to a new dimension where you can find yourself and feel your body in a new dimension of relax and meditation.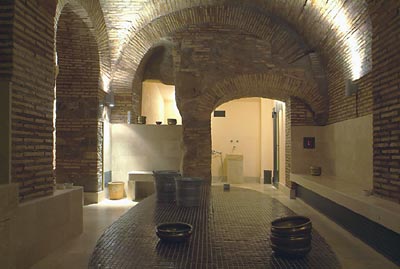 Inside the Hammam you find multiple rooms; in each one, from the coldest to the hottest, there are attendants taking care of your every need. You begin in the changing room (apodyterium), then, with just a towel on, you proceed to the warm bath (tepidarium 36°) where, after a hot shower, you start the hammam.
You lie down on a warm marble bench,in a dreamlike atmosphere, surrounded by the faint sound of water and a pale light. Then alternating partial hot water wash - that open up your pores - with the use of natural black olive soap, your body will soon shift to deep relax mode.
From the tepidarium, you move the hot baths (calidarium 45°- 100% humidity) where you will experience the real "steam bath"; here the strong heat aids in calming the mind to the point that you feel yourself asleep.
The steam improves circulation and is also good for the lungs, helps to fight common cold, flu and rheumatic pains. The sweating removes toxins and excess water in the body. Following the hot baths, you will experience a vigorous body scrub, made by our attendants, with the traditional Hammam glove.